It's pretty cool how much we can add to our experience of the world with modern tech! For example, augmented reality is one such innovative technology, allowing us to visually represent all kinds of 3D objects with no physical form. To learn more about it, you can read how augmented reality works.
Modern AR apps are used for various purposes, from entertainment to enterprise applications, and their usefulness has prompted thousands of organizations to utilize augmented reality in education and training, while educational establishments implement AR in teaching classes.
This article will cover real cases of augmented reality learning, as well as how this technology affects the educational process and its results. You can also find out how to get high-quality AR development services for your needs at a reasonable price. Ready to begin? Let's go!
Why Augmented Reality is Important in Education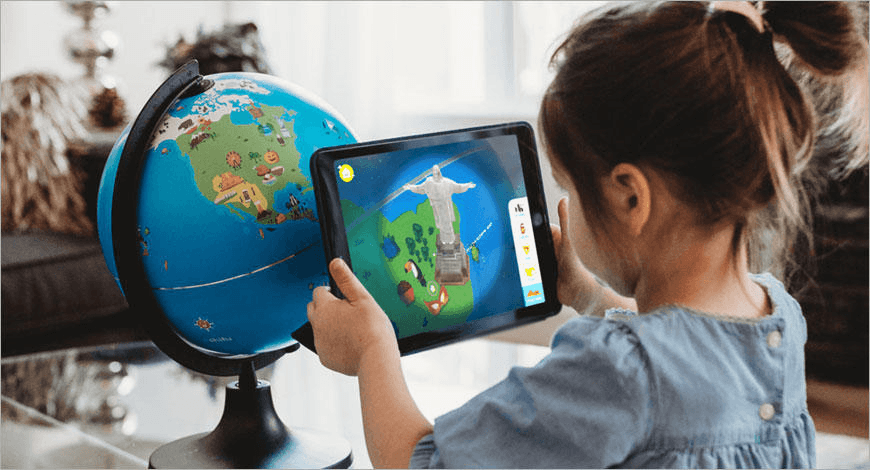 Even though many teachers globally prefer to stick to traditional teaching methods, AR technology is making inroads in educational establishments and enterprises. So what is augmented reality in education, and how does it affect students' performance?
As they learn, many students find it difficult to perceive theoretical information without any visuals or relatable examples. As a result, many concepts remain incomprehensible and out of reach for students. This is where augmented reality applications come to the rescue, visually transforming information and creating order from the chaos.
The science backs it up
Teaching with augmented reality engages students on a greater level and boosts learning indicators, as evidenced by a recent study conducted with Cape Town students. Augmented reality applications were used to test how they impacted learning motivation. The results showed that the factors motivating attention, satisfaction, and confidence were increased, and these results were significant.
Talking about the future of augmented reality in education, the TOJET study was also in this vein. It demonstrated the positive impact of AR technology on knowledge retention compared to traditional teaching methods.
Benefits of Augmented Reality in Education
There are many advantages of using augmented reality applications in education that have already been discovered by practicing educators. Here are the main ones below!
Advantages of augmented reality in education
Access to learning materials. Educational institutions often lack up-to-date teaching materials; many students have to study outdated information or search for information on their own at home. In an AR application, you can download the latest data and display it in an interactive format.
Access to virtual equipment. In cases where it is necessary to explore specific equipment and learn how to use it, an augmented reality application can present the required 3D model and helpful explanations. This adds practical value to the traditional learning materials.
Higher student engagement. Students study the material more deeply through immersion, which makes it feel more real and relevant. This is a substantial change of pace and an exciting experience for many.
Faster learning. A new way of presenting information helps reduce the overall learning time. Subsequently, there is more time for practice and in-depth examination of niche topics.
Safer practice. In such cases as anatomy lessons, students no longer need to dissect real animals; this can be accurately simulated through software. Students get the same level of practice without harming anything or working with dangerous tools.
Challenges of augmented reality in education
Aside from the benefits, there are a couple of difficulties associated with using such learning tools:
Proper hardware is needed. An AR application cannot be installed on old phone models or those who run OS versions that don't support immersion. Schools are rarely known for having the most modern electronic tools, so purchasing smartphones/smart glasses may be out of the question.
The lack of teachers' experience with tech. Some educators do not embrace modern technologies, or even know how to use them. This can be a problem when the teacher is obligated to show how the device works and help students in case of difficulties.
Overall, there are many more benefits than challenges of using augmented reality applications for education. Besides, the aforementioned challenges can be solved with minimal effort.
Augmented Reality Uses in Education
Thinking about how to use augmented reality in education? There are many fields where AR applications can become a great solution to many problems. So let's have a look at how augmented reality can be used in education.
Augmented reality in schools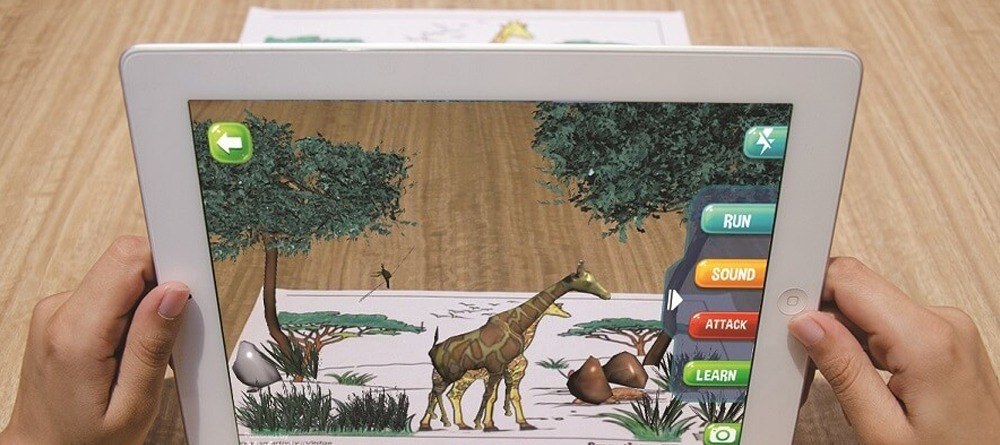 What is AR in school? It's an application that can be used during lessons for better representation of the material being studied. For example, school students can explore such complex sciences as biology, anatomy, physics, and even math more interactively and engagingly. In addition, an augmented reality app in the elementary classroom can simulate different cases that are hard to explain and even help develop children's creativity.
But do you know how to use augmented reality in the classroom? Most modern mobile devices such as smartphones and tablets are suitable for AR application use, and many of the young generation already have personal gadgets. Still, it's only a benefit as kids can do their homework with more excitement and learn whenever they want.
Augmented reality in college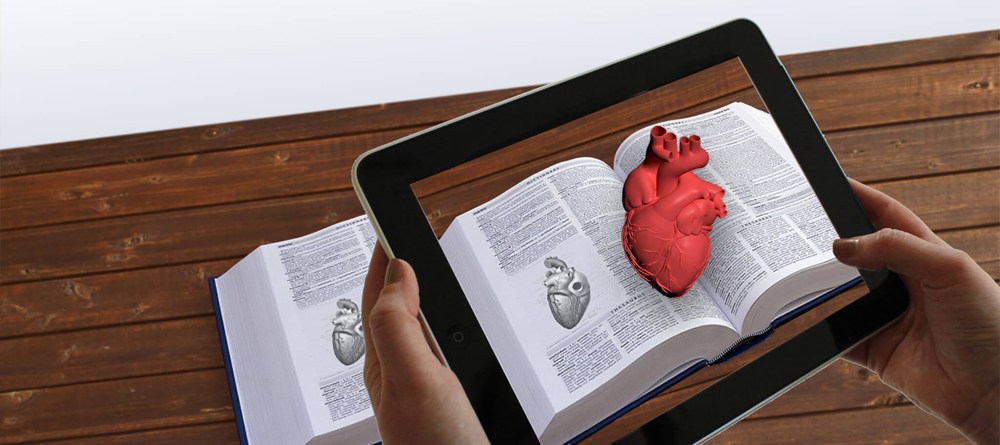 Whether students want to study humanitarian sciences or technical science, augmented reality solutions for a university can be very helpful. For example, medical students can learn anatomy and practice examining the body with an AR app representing the human body inside and out. In addition, many universities use augmented reality for teaching students engineering, math, design, astronomy, and much more.
Augmented reality for students makes the educational process more engaging and safe. The technology allows conducting experiments like trying different chemical combinations and seeing what can happen with no harm to students and university property. Moreover, AR applications can help students with creative activities in college and with organizing university events.
AR for distance learning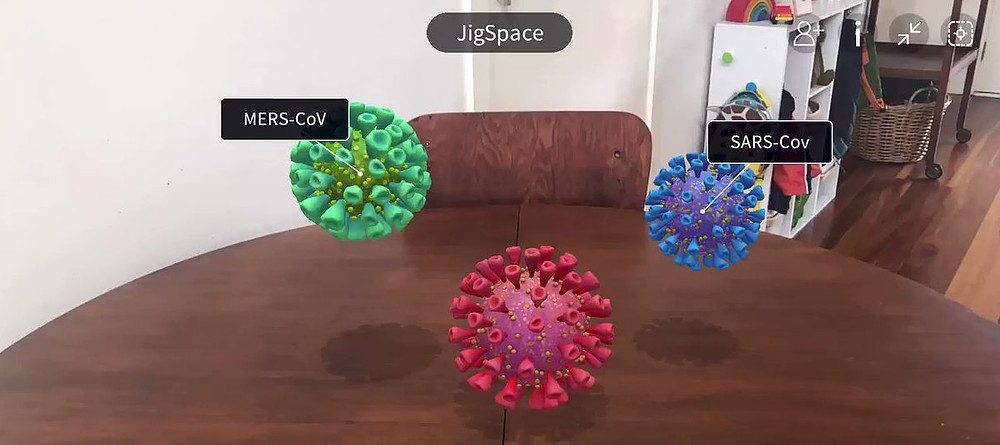 Over the past couple of years, the method of distance learning has become very popular due to the pandemic. For this reason and others, online education will likely continue to be used worldwide long after the situation stabilizes. Augmented reality applications can serve as a convenient platform for online learning, where the student can receive the necessary materials and collaborate with other students and teachers in real time.
We should also mention that distance-learning students do not always need a teacher to explain the material. A good app can contain an entire presentation on each topic with a short or detailed explanation of the theory and interactive practice. Thus, students can study independently at a high level in the location most comfortable to them.
Augmented reality in work training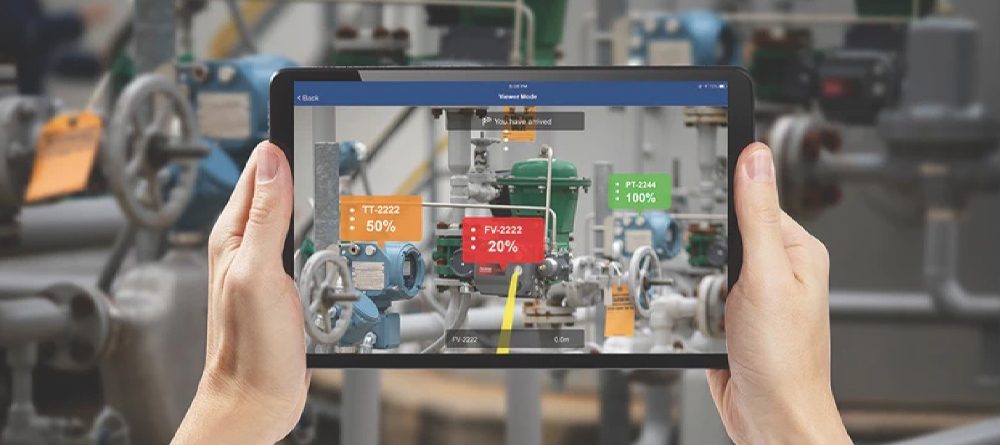 Using augmented reality training, entry-level specialists and those transitioning to a new position can pick up skills and knowledge at a rapid pace. For example, it will let them learn how to use work equipment and grasp the theory and work environment without any risks to the organization and the employee's health. For example, AR logistic training helps not only to train staff but also organize their work.
Research has shown that AR-assisted training improved work productivity for General Electric employees by 34%, and in the case of GE Healthcare, by 46%.
AR in Education: Use Cases
There are several prominent examples of augmented reality in education that show the actual capabilities of such learning methods.
Children's safety education. More than 80 kindergartens in China made use of AR technology in an elementary education program to teach children from an early age all the basic safety rules and develop self-awareness in this area. The organizers suggest that this interactive education method has a better chance of making children remember such vital information and apply it in life.
Augmented reality in Western University. The Unity Charitable Fund was granted for an AR project for Western University that will allow students to swim with sharks! This is considered to be a great experience for making decisions under pressure and for students-biologists to explore the sharks' view and behavior up close.
Google Arts & Cultures in the classroom. In the conditions of quarantine and a pandemic, it has become much more challenging to organize excursions to museums, exhibitions, theaters, etc., for students. This application from Google allows you to conduct a virtual 3D tour of the most famous museums globally, spend a day at ballet, and even visit different countries without leaving a class or home.
In fact, students are not limited to any of the mentioned fields using augmented reality. You can always create a custom AR application considering your learning needs and deliver a top-notch learning experience that will blow any existing curriculum out of the water.
Building an AR App for Education with a Perfect Price/Quality Combination
Unfortunately, it is quite common for publicly available AR applications to be limited in functionality or particular fields of knowledge. On the other hand, a custom AR application guarantees that the user will get all they need from the purchased/downloaded application. But how can you get a high-quality AR solution without breaking the bank?
Program-Ace is a company that provides full-cycle software development, including AR/VR/MR technologies, gamification of business processes, and more. With over 25 years of experience, we have a large team of specialists who know a lot about building high-quality AR applications for any purpose.
We have all the necessary resources to assist you with your project and apply digital information to any learning materials. The design and development time will be as fast as possible and won't require additional costs for the required tools.
Contact us when you are ready to get your own top-notch augmented reality application.