As a result of the continuous growth of eCommerce, providers are looking for any avenue to capture a larger share of customers. Among these, providing a tailored, personalized experience to customers has emerged as a very popular practice, and product configurators have risen as the #1 instrument of delivering it.
A product configurator, which is an interface where a user can customize a product model to their liking, is a perfect choice for the eCommerce industry, and has a proven track record. Whether you are just now learning about a product configurator for eCommerce or want more in-depth information about how it can be implemented in your business, we've got all the information you need in this article.
As a company that knows the ins and outs of creating a custom product configurator (having done so many times in the past), we will be relying on our own expertise and the best practices in the industry.
Benefits Of a Product Configurator in ECommerce
For over a decade, the traditional approach to eCommerce has been "just put your inventory up on the website and let the customers choose". However, this approach is flawed, and fulfills neither the full needs of the customer nor the business. To get a better sense of it, let's examine the ways in which a 3D product configurator is superior.
1. Higher client satisfaction
Customers love freedom, and giving them a seemingly broader choice of product builds works wonders in satisfying their needs and wants. No longer do they need to settle for less or grudgingly select a product version that partially meets their expectations, but doesn't quite get there.
2. Better client-product-brand engagement
Through the process of interaction, customers form an emotional bond with your product. They will be much more motivated to purchase a product having spent minutes (rather than the usual seconds) choosing their product. This extra time with the product also helps them learn more about it and get more acquainted with your brand.
3. Useful analytics
You might be able to tell which product versions are most popular based on their sales, but customization takes this to a whole new level. Based on user choices in the product configurator for eCommerce, you can get much more detailed and insightful information about the colors, accessories, performance specs, and other aspects that customers like, even when other features do not get the same response.
4. Helps sales teams be more efficient
Configurators are usually designed to be much more than a visual reference. Many of them have a build-in order system that quickly takes them from the stage of seeing a product for the first time to choosing their own design and paying for it. This tendency towards autonomy helps sales teams spend less time educating and consulting clients and focus on other matters, such as securing bulk sales.
5. Prestige
Building an in-house customization solution is definitely something that grabs attention, and accordingly, which can be used to garner good press. Even the fact of creating something that your competitors do not have can generate months of good publicity and push you to the front of the pack, at least in the eyes of the public.
What are the 2 Key Types of Product Configurators?
If we look at the way configurators are presented and provide their customization features, we can single out 2 distinct types deployed on websites and other platforms – static and dynamic.
Static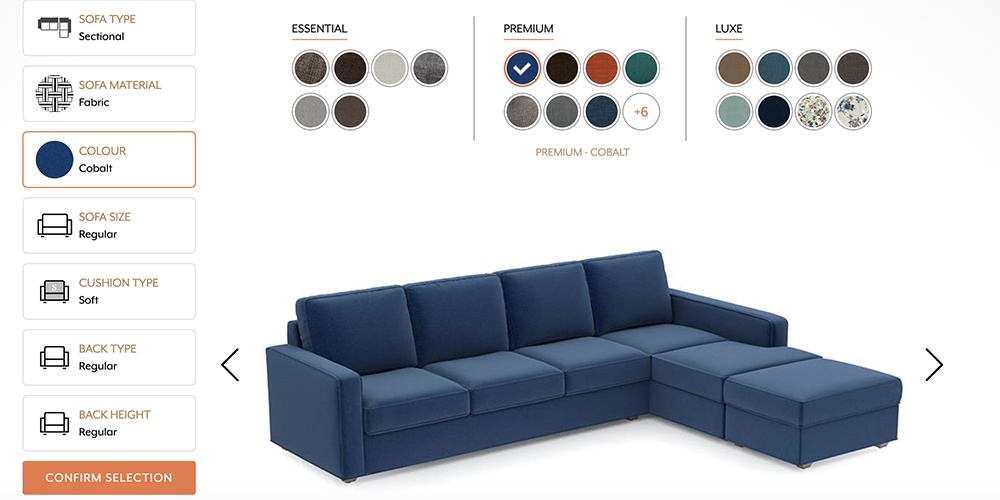 Static configurators are all about taking you from one place to another. The order of things happening goes like this: you see one configuration of a product -> you select a new customization option -> a new visual representation of the product loads. Static configurators are a somewhat legacy type, normally using photos to visualize a product and deployed through a website with hundreds of links and pages, with a single page ready to load based on user choice.
Example: Urban Ladder
Urban Ladder is a major online furniture provider that mainly offers customization in aspects of furniture like color and material. They mostly visualize products through photos, and selecting any customization option causes a new page to load.
Dynamic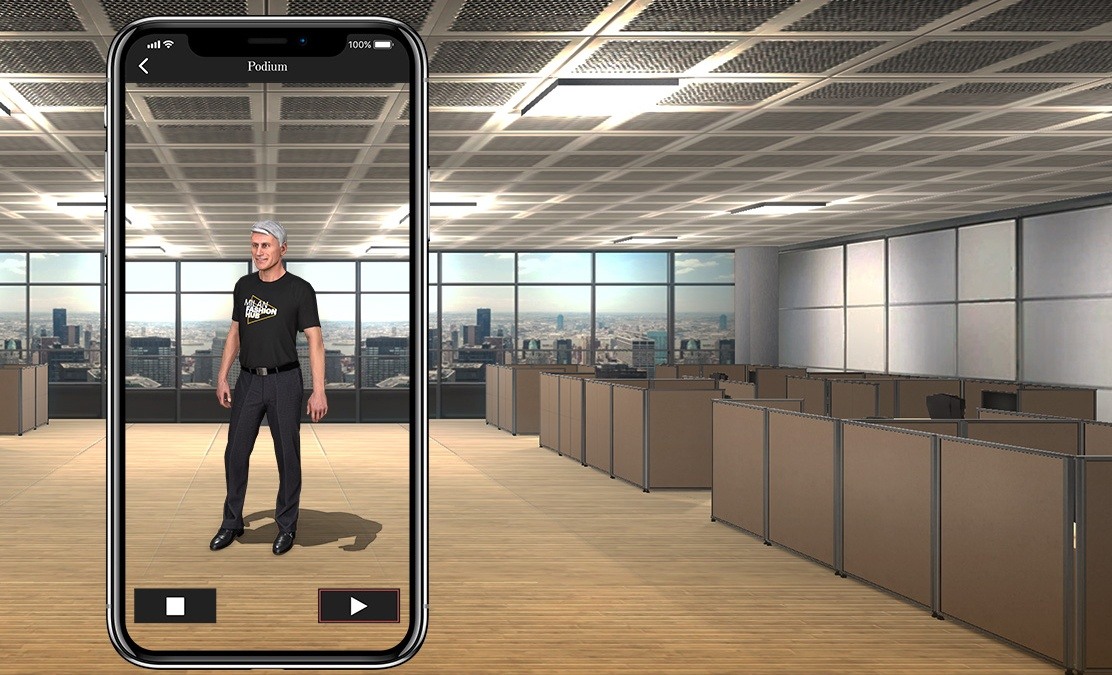 Real-time configurators offer a seamless experience. This means that when you select a customization option, you don't have to wait for a new page to load, and everything happens in front of your eyes in a fraction of a second. Usually, the content is preloaded as soon as a user launches the configuration app, and is normally presented in 3D form. Sometimes, an eCommerce product builder will have a whole catalog of products that you can switch between effortlessly.
Example: FashionTek
FashionTek is an emerging clothing brand that decided to create a configurator in the format of a dressing room. Program-Ace built this software, which featured digital avatars for shoppers and dozens of clothing items that they could customize and try on their avatar.
Best Practices for Building a Product Configurator
Obviously, the information needed to create this kind of solution can't be condensed into a handful of tips, but we want to help you with 2 important aspects of the planning process – choosing how to deliver the configurator to customers (platform), and what you want to include in it (features).
Choosing a platform
Web
An online presence is an essential element in any eCommerce business, so it makes sense to deploy the configurator directly on a website. This is helpful because users on all devices with internet-browsing capability can access it. At the same time, most web configurators require a constant internet connection and may take a while to load on mobile internet, limiting users' freedom.
Mobile
Mobile configurators are often built to be an extension of a robust web offering and targeted towards faithful customers that already have a history with the company. It is much easier for them to open an optimized app on the go and get what they need than to sort through web pages in their mobile browser. However, most new and potential customers frown upon the need to download a new app just to get a basic online service.
Immersive
In rare cases (mostly for expensive and luxury products), configurators are developed for virtual reality or augmented reality. VR requires a special headset, but provides very up-close and personal interactions with products. As for an AR product configurator, it can be delivered through a mobile app, or in some cases, through a browser using WebAR technology.
Choosing application features
(Look around and see a product from all angles. Sometimes even from within)
(Demonstrating how the object works and how it should be used safely)
(Contain key information about product builds and specific customization options)
(Customers can place an order right after choosing a build they like)
(3D products are visualized in a realistic environment, sometimes based on captures of a user's surroundings)
FYI, the 5 features above hardly represent the full scope of functionality that you can implement in the software, but they are the most popular beyond the core features of product variety selection and update. You are welcome to think outside the box and come up with other ways to make your solution useful and unique. For example, a manufacturing product configurator may need a bulk order option.
How to Build 3D Product Configurator ECommerce Software
Once you make the decision to build your own configurator, you will also need to consider how you'll go about the process – building everything from scratch in house or delegating some work to a partner.
Independently
If you choose to craft a configurator yourself, you are guaranteed to need software developers. They will be responsible for creating the interface and functionality of your solution, as well as integrating it with your existing services, whether this means implementing it on your website or packaging it into a separate application and getting it released on your marketplace of choice.
Unfortunately, most eCommerce providers don't have such experts and need to hire them, which sometimes takes weeks or months. Learning or teaching to code will probably be out of the question, since it takes months to learn how to make even the simplest app.
The other challenging aspect of development will be asset creation. If you go with a simple configurator, you can just use some photos and videos as visual assets, but for all other situations, you'll need 3D models, which are typically created by 3D artists. The talent and hiring situation here is very similar to the one with developers.
With a partner
For companies that lack the resources to get their project off the ground themselves, working with a partner is an ideal solution. This will usually be a company with plenty of experts available to handle project work.
Ideally, you should find somebody with a good combination of experience and cost, with a large team available, and a flexible attitude towards your project (being ready to adapt to changing circumstances and requirements). As for the matter of product configurator cost, you can get a great price by pulling a team from a region with a thriving IT talent market full of educated specialists.
Program-Ace is a provider ready to give you the best of both worlds. Building configurators is one of our greatest strengths and we have multiple successful cases to prove it. Our company is based in Ukraine and has a large team with all the specialists you need – developers, 2D/3D artists, QA engineers, business analysts, and many more. Thus, we are more than ready to help with your project.
Ready to discuss potential cooperation? Just send us a message!