Cloud technology is a revolutionary way to store and manage data. Numerous businesses have it already as a commonplace feature. Cloud computing is a key pillar of the digital transformation technology ecosystem. Cloud is the platform that enables agile application development, and it allows organizations to scale infrastructure at the same pace as the changing business priorities, while it reduces the risks of wasted resources.
Some companies find it difficult to have a successful digital transformation, which is not surprising because digital transformations are harder than more traditional ones to get right.
What is digital transformation?
Digital transformation is the integration of digital technology into all areas of a business. It leads to fundamental changes in the way a company works (this includes workflows, systems, processes, etc.). This transformation brings together data across multiple areas to work together better.
Why is digital transformation important?
Digital transformation is essential because it fuels growth. Companies need it to make improvements, drive change and embrace the digital age. Digital transformation enhances efficiency, generates opportunities to grow revenue, increases customer value and more.
What are some benefits of digital transformation?
improved data collection;
more accurate customer insights;
increased agility;
better resource management;
modernized infrastructure;
cost savings;
enhanced customer experience;
improved productivity;
revenue growth.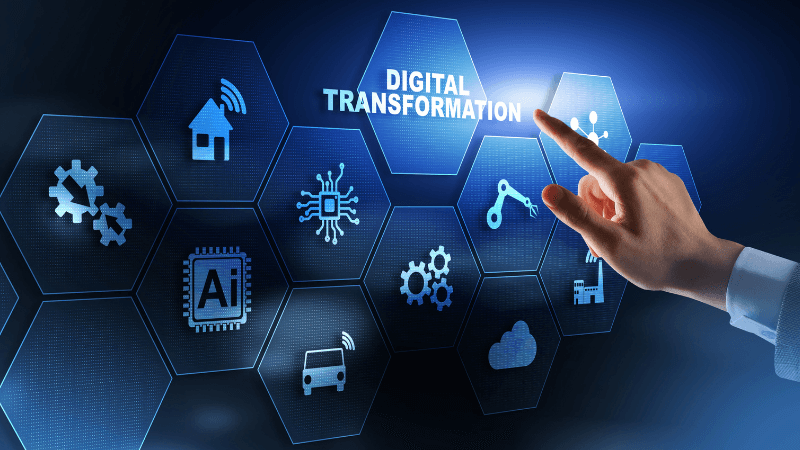 What is the connection between digital transformation and cloud computing?
Digital transformation depends on a well-strategized IT infrastructure. There is a journey to digital transformation, and it includes the flexibility to build and manage apps quicker in the cloud, measure results with data analytics, collaboration among teams, agility and embracing new ideas and new insights about the market's demands.
What is cloud computing?
Cloud computing is the delivery of computing services (databases, servers, software, etc.), on the Internet (on the cloud). The data is not saved on physical devices, but on the cloud, and it has several business uses, such as cost optimization, enhancement of the customer's digital experience, process management.
There are 3 types of cloud computing: SaaS, PaaS and IaaS.
SaaS (Software-as-a-Service): the provider hosts the software on its server and leases it to organizations on demand, based on a subscription. A SaaS has some key characteristics, such as multi-tenant architecture, better access and easy customization.
PaaS (Platform-as-a-Service): providers lease the infrastructure needed for developing apps. The provider hosts the software and hardware on its own infrastructure. The main benefit of PaaS is the convenience for users. Users can access from anywhere the infrastructure that the providers supply.
IaaS (Infrastructure-as-a-Service): IaaS provides an on-demand infrastructure to companies on a pay-as-you-go basis. This takes place over the Internet instead of via a traditional datacenter. IaaS offers compute, storage and networking resources on demand.
What are the benefits of cloud computing?
Flexibility of management and development: companies do not need to invest in setting up and maintaining in-house IT resources;
Customization: cloud solutions are tailor-made to business requirements, and they provide a scalable framework model. Businesses pay only for the services they use;
Faster time to market: cloud-native companies can release code into production multiple times per day using end-to-end automation. Automated cloud platforms allow them to respond to market demands and quickly test what works. This means that companies that have incorporated cloud platforms can bring new capabilities to market faster;
Security: in-house data is more vulnerable to cyber threats and attacks. Cloud hosting stores multiple backups of data in a distributed system, which considerably diminishes risks;
Collaboration: cloud infrastructure allows teams to collaborate at the same level without hierarchy communication. Different teams have access to the same data remotely, which saves time and facilitates daily tasks;
Empowerment: digital transformation upgrades IT infrastructure, helps businesses to bring new technologies that speed up processes.
As all the available information indicates, cloud computing is essential for the modern world. Businesses that focus their investments can enable increased revenues and improved margins because the value the cloud generates comes from innovation and increased agility. A traditional infrastructure will be a challenge for companies that want to tap into new opportunities. When dealing with digital disruptions, businesses face critical choices: should they build a new business model, or transform their existing one, or which areas will need more investment in digital initiatives? Cloud computing and digital transformation allow organizations to serve more customers and provide better customer support. All in all, the future of computing will rely on the cloud, which means that companies from all industries will have to re-think their IT strategies if they want to take advantage of the benefits.